PRODUCTS

Sn-Cu-Ag Ribbon Solder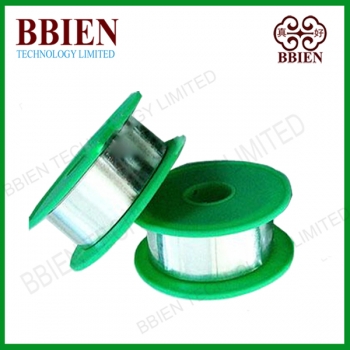 Sn-Cu-Ag Ribbon Solder
With men's awareness of environmental protection growing,the voice of prohibiting the use of lead material bigger.One of the main directions is "lead-free" of world electronic products. Published two directives of the European Union,greatly promoted in the lead-free electronic products process. My Government will be formally promulgated the "Electronic Information Product Pollution Control Regulations" to July 1, 2006 the full implementation of lead-free electronics manufacturing standard.
Shenzhen BBIEN Technology Limited's ribbon solder have the following sizes:
Metal composition:Sn-Cu series(Sn95Cu5,Sn97Cu3,Sn99Cu1,Sn99.3Cu0.7...)
Sn-Cu-Ag series(Sn96.5Ag3.0Cu0.5,Sn99Ag0.3Cu0.7,Sn...)
Sn-Cu-Ag-Sb series(Sn92.5Ag3.9Cu0.6Sb3...)
Sn-Sb series;Sn-Bi series,Sn-Ag series;pure tin series
...
While the size of BBIEN ribbon solder can be:
Thickness:above 0.05mm(o.1mm,0.2mm...3.0mm)\
Wideth:above 6mm(6-100mm)
Weight:200g;300g,450g,500g,1kg,2kg,3kg,4kg,5kg... per roll
BBIEN is willing to work with you in good relationships to refine the performance lead-free solder ribbon .
1.Little impurity, diffusion capacity well
2.Weldability, good fatigue resistance
3.Solder joints, solder surface brightness, good wetting
4.strong antioxidant, anti-creep
5.Increase production speed, reduce production costs
Good spread characteristics
Very low levels of fumes
Clear non-tacky residue
Provides good joint appearance
Halogen and Halide Free
Low Cycle times for component touch-up and manual assembly
Safe to use, Operator Friendly, Less Residues on Boards
Excellent First Pass Solder Joints. JIS Spread ≥ 80%.
Cleaner Working Environment, Less Extraction Maintenance
No-Clean Residues, Useful for all Applications
Makes Inspection easy
Environmental compliance and High Electrical Reliability