PRODUCTS

Germanium metal 5N 99.999% used for semiconductor industry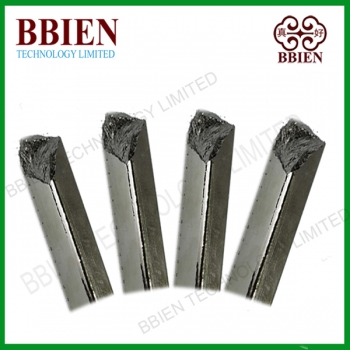 Germanium metal 5N 99.999% used for semiconductor industry
BBIEN High Technology specializes in customizing high-purity Germanium, 500g pure Ge ingots;
CASNo.7440-56-4 Germanium metal and Ge ingot 99.995% monocrystalline.

Physical and chemical properties: Metallic Germanium is hard and brittle and has a silvery ash luster, atomic weight is 72.59,and density is 5.325g/cm3,melting point at 937.4 celsius and boiling point at 2800 celsius.



rare

metals Germanium in forms of round/granules/piece.
Germanium metal 5N 99.999% used for semiconductor industry
Feature of

rare

metals Germanium

1. Customized zone refined Germanium or crystal particle size 200mesh typically for Ge powder
2. High purity raw material Germanium metal 5N, 6N,7N.
3. Wide range of application like metallurgy, chemical reagent organometallic compounds,
tetraethylgermane, which are useful in organometallic chemistry.
4. It is obtained from zinc ores and certain coals. Germanium is insoluble in dilute acid
and alkali, but soluble in concentrated sulfuric acid/nitric acid.
Other characteristics of Germanium metal
1. Crystal growth possible at lower temperatures.
2. Better forward voltage drop, only approximately 0.3V of germanium diodes.
3. Substantially higher electron and hole mobility indicating potential for higher-speed