PRODUCTS

Bright silver Aluminum alloy wire (Ag-Al)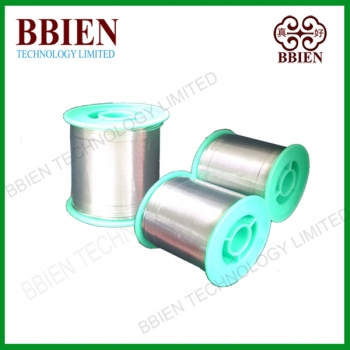 Bright silver Aluminum alloy wire (Ag-Al)
bright silver Aluminum alloy wire
We can produce Indium-Tin Alloy Wire, Indium-silver Alloy Wire, Copper-Zinc Alloy Wire, Aluminum-SilverAlloy wire and so on.
Ag-Al series alloy wire Specification:
Aluminum-Silver alloy wire:
Ag98Al2: 98%silver 2% aluminium
Ag95Al5: 95%silver 5% aluminium
Ag90Al10: 90%silver 10% aluminium

…
Ag5Al95: 5% sliver 95%aluminium
Ag2Al92: 2% sliver 98%aluminium
Diameter:above 0.5mm
Packing:500g or 1kg per spool

For now,our silver aluminum alloy wire have been exported to Ameriaca,South Korea,Russia,Switzerland,France etc.
BBIEN appreciate your kindly feedback,we are looking for establishing business cooperation with you.
Features
Excellent solderability, short wetting time
Uniform distrbution of rosin, good continuity
Low fume, free of odor and harmful valatile gases
Bright and tidy spool
Detailed Product Description
lead free solder wire, no clean solder wire. Our prodct is SGS certificated and passed RoHs.
Product advantage
1.Even and bright soldering spot
2.favorable diffusion & welding performance
3.minimum spattering, small smoking & no pungent smell
4.no corrosion
5.lowest and clear flux residue
6.non-conductive, Good insulating properties
Diameter available
0.5mm~5mm (According to customer's requirements)