PRODUCTS

lead free bar solder Sn96.5Ag3.0Cu0.5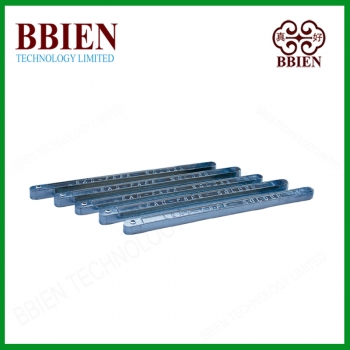 lead free bar solder Sn96.5Ag3.0Cu0.5
Sn96.5Ag3Cu0.5 lead free solder bar is lead-free alloys suitable for use as a replacement for Sn63 alloy. The SAC3053 tin bar variants is used to stabilize / reduce the copper content in the wave solder bar, this requirement will depend on process conditions. As with all our Metals bar solder, BBIEN'S proprietary alloying process is used to remove certain impurities, particularly oxides.
SPEED – 0.75 seconds typical wetting speed compares to SAC305 at 0.65 sec and superior to Sn99.3/Cu0.7 based
alloys at 1.0 sec.
DROSS GENERATION – lowest in class due to the process in conjunction with the addition of a dross reducing agent.
Feature:
High Purity
Excellent solderability

Good wetting

Low oxides, low drossing

Solder bar, chunks, anodes, preforms and solid wire

VACULOY® alloy conditioning process
Advantage:
Lowers Total Cost of Ownership due to the lower material cost, high yields and low dross generation.
Gives very good solderability due to the fast wetting speed.
Gives very good drainage and hence lower levels of bridges due to the formulation containing Silver.
Delivers good performance across a range of flux technologies.