PRODUCTS

Solder Powder Profile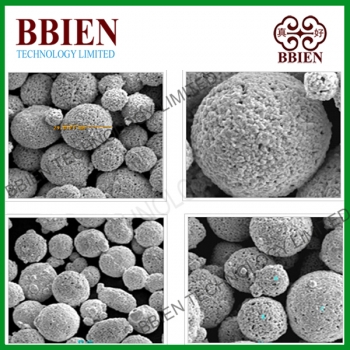 Solder Powder Profile
Our BBIENTechnology allows us to produce perfectly sized, low oxide solder powders.
All BBIEN solder powders are atomized in a controlled atmosphere to minimize oxygen content.BBIEN's proprietary separation process ensures perfectly sized powder without surface damage. The particle size distributions exceed the specification and contain no fines below 15 microns (Types 2.3,3,4,5.6.7).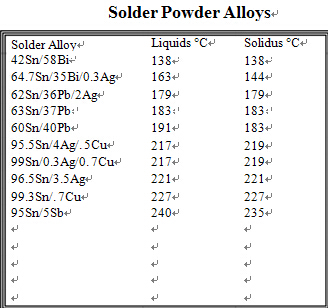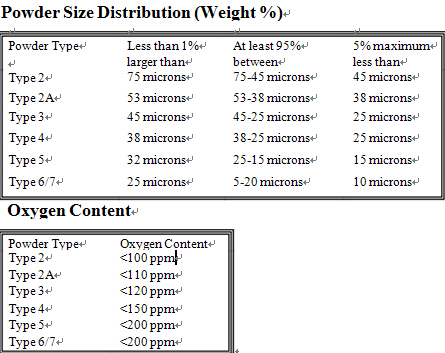 Main Characteristics
Good solder powder must have the following properties: a "clean dry sand" appearance, a gray-silver color vs. a charcoal-gray, which indicates presence of oxidation and good flow behavior go to functional test. Other important features include high powder density close to the theoretical density of the alloy and no internal voids or external satellites (microspheres attached to a single sphere).
Our BBIEN Technology solder powder products offer:
- Low process temperatures from 190°C to 300°C
- Low pressure sintering of 5-10 MPa or higher
- Consistent print characteristics
- High thermal conductivity silver bond lines ~ 250 W/mK
- Bond lines from 5μm to 100μm
- Dies from <1mm2 to wafers >70,000mm2
- High volume manufacturing capabilities (up to 70,000 uph)
- Lead free and zero voiding
- Long shelf life and easy start up
- Compatible with Multi-chip modules, discretes, cavity packages,stacked dies, lead frames, and more