PRODUCTS

138℃Sn42Bi58 low temperature solid(no fluc core) solder wire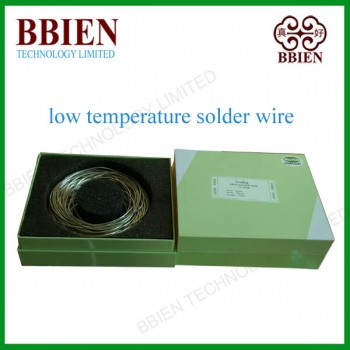 138℃Sn42Bi58 low temperature solid(no fluc core) solder wire
SHENZHEN BBIEN'S TECHNOLOGY LTD 's
Tin Bismuth solder wire, with a melting point of 138 degrees C, is ideal for soldering of temperature sensitive components. Supplied as a solid core (no inner flux core) lead free solder wire, this solder gives good wetting and solder flow. Packaged as a 1000g box this solder wire we recommend using with the PF670 flux gel to promote increased rapid wetting.
Low temperature eutectic Tin Bismuth alloy
Prevents thermal damage to heat sensitive devices
Low to non-toxic lead free solder
Available currently in a 0.5mm,0.6mm,0.8mm,1.2mm and 2.0mm diameter.
BBIEN's low temperature Sn42Bi58 solder wire
Feature:
-Diameter:above 0.5mm
-Sn42Bi58 is the fastest wetting and lowest spattering.
-Halogen Free and Halide Free solid wire
-It performs admirably when benchmarked against Halogen and Halide containing competitive products available in the market and is a viable option to meet environmental requirements.
-Low residue and tin dross,high soldering result
-Fast speed for soldering,good fluidness
--Residue is easy to remove by hot air after soldering work if necessary.
--Available in many alloy composition,other alloy composition are also available.
Why choose us?
Our products has the following advantages:
Good wet ability and expandability, and effectively prevent the phenomena of bridged linkage and icicle.
Efficient ability to dioxide film and to coat with quickly.
Little spatter and smog, no smell, bright solder joints during soldering.
Little residue and high insulation resistance after soldering, excellent electrical performance, no-clean.
Soldering flux is evenly distributed with good continuity.
Range of application: widely used for manual soldering or automatic iron soldering operations, applicable to repair or the soldering of the electronic elements of electronic products.