PRODUCTS

solder paste instruction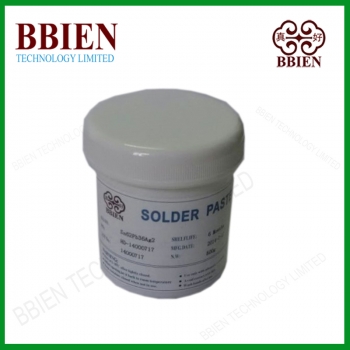 solder paste instruction
BBIEN
Solder Paste
solder pastes, which is silver gray appearance, made up with metal powder and some active resin mixture. It's specific gravity from 7.2 to 8.5. They are available for immediate delivery in jars, cartridges, syringes and can/box packing. They could be applied for your SMT technical requirements. We offer a short turn around time on orders and can ship to meet your just-in-time requirements.
BBIENsolder paste classification
Contain Pb solder paste: Sn63Pb37; Sn62Pb36Ag2
(Pb) lead free solder paste: Sn96.5Ag3.0Cu0.5; Sn99Ag0.3Cu0.7; Sn64Bi35Ag1; Sn42Bi58
No-clean solder paste; water-soluble; halogen-free; low halogen solder paste
Temperature classification:
High temperature solder paste: Sn99Ag0.3Cu0.7; Sn96.5Ag3.0Cu0.5
Middle temperature solder paste: Sn63Pb37; Sn62Pb36Ag2; Sn64Bi35Ag1; Sn64.7Bi35Ag0.3
Low temperature solders paste: Sn42Bi35
To help us meet your particular needs, please provide us with information on your alloy, flux type, powder size and packaging preferences.
If you are not sure which combination is best for your process or have questions regarding soldering techniques, procedures or products, our technical support staff will assist you.
BBIEN offers a full line of technologically advanced solder pastes developed to provide high throughput and yield, and lowest cost of ownership for a wide range of applications. Our offering includes leading lead-free, no-clean, halogen-free solder paste technologies for applications such as fine feature printing, low temperature processing, and many others. Solder pastes are available in a wide range of alloy offerings, including low-Ag SAC0307 that offers excellent soldering performance at an alloy cost approximately 30% less than SAC305. SAC small Ag alloy is also offered in solder bar, preforms, wire, and spheres for assured alloy compatibility and stronger solder joints. BBIEN solder pastes conform to our customers' unique processes, as well as the challenging environmental regulations they are required to follow.